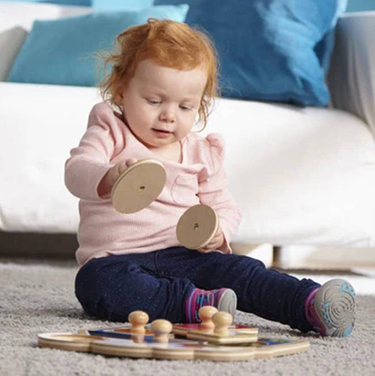 First Shapes Jumbo Knob
Our pharmacy is proud to offer a wide selection of gifts that have become a neighborhood favorite. We offer items for any occasion, including a wide variety of Melissa & Doug toys, board games and Pure Encapsulations. Our Pure Encapsulation supplements assist with brain health, weight loss, healthy skin/hair/nails, energy, cardiac health, vascular health and much more.
View our available products below or visit our pharmacy to learn more about our available toy selection.
Pie Face Cannon!

Monopoly The Game

Chutes and Ladders - Retro

Twister Classic Game

Trivial Pursuit Classic Edition Game

Simon Classic Game

Scrabble Board Game

You Sunk My Battleship - Retro

Rockem Sockem Robots

Yahtzee

Pictionary Board Game

Perfection Board Game

Operation Board Game

Mouse Trap Board Game

The Game of LIFE Board Game

Don't Rock the Boat Game

Jenga Game Classic

Hungry Hippos Game

Pie Face Showdown!

Don't Break the Ice Game

Clue Classic Board Game

Connect 4 Game

Trouble Board Game

Candy Land Classic Board Game
5-HTP (5-Hydroxytryptophan) 100 mg. 60's

5-HTP (5-Hydroxytryptophan) 50 mg. 180's

5-HTP (5-Hydroxytryptophan) 50 mg. 60's

5-HTP (5-Hydroxytryptophan) 100 mg. 180's

7-Keto DHEA 25 mg. 120's

7-KETO DHEA 100 mg. 60's

7-Keto DHEA 25 mg. 60's

7-KETO DHEA 100 mg. 120's

7-Keto DHEA 50 mg. 120's

7-Keto DHEA 50 mg. 60's

A.C. Formula II 120's

Acetyl-l-Carnitine 250 mg

A.I. Enzymes

ADR Formula. 60's

Acerola/Flavonoid

Adrenal

Adenosyl/Hydroxy B12 90's

Adenosyl/Hydroxy B12 liquid

AdipoLean II 90's

Acetyl-l-Carnitine 500 mg

ADR Formula. 120's

AI Formula 120's

AI Formula 360's

Aller-Essentials 120's - IMPROVED

Aller-Essentials 60's - IMPROVED

Alpha Lipoic Acid 100 mg. 120's

Alpha Lipoic Acid 100 mg. 60's

Alpha Lipoic Acid 200 mg. 120's

Alpha Lipoic Acid 200 mg. 60's

Alpha Lipoic Acid 400 mg. 120's

Alpha Lipoic Acid 400 mg. 60's

Alpha Lipoic Acid 600 mg. 120's

Alpha Lipoic Acid 600 mg. 60's

Alpha Lipoic Acid with GlucoPhenol. 120's

Alpha-GPC 120's

Alpha-GPC 60's

Amino Replete

Amino-NR 180's

AntiOxidant Formula 120's

Arabinogalactan 180's

Arabinogalactan 90's

Ascorbic Acid 1 gram 250's

Ascorbic Acid 1 gram 90's

Ascorbic Acid Powder

Ascorbyl Palmitate 180's

Ascorbyl Palmitate 90's

Ashwagandha 120's